Thank you for the roof
We have put roof in the Church, in the main building as well as in the rooms in the side of the building. It was a great joy to see the believers worship God in the new building. I have pictures and videos of the old and new Church. We give all glory to God for you. Please have a look.
Their old Church Service
All people seat together in the house for Church Service, it was very difficult for old men and women to seat hours this way.

Putting last part of the roof
A local carpenter helping fix the aluminum roof in the Church.
Gathering of believers on Sunday Morning
Church Service in new building
In this new Church, Soloman lead a Chorus with Guitar,
Seek ye first the kingdom of God
in the starting of Sunday service. This particular Church has service on Sunday, rest of the Churches have service on Saturday which is weekly holiday in Nepal. Soloman is asking everyone for donation to put the music system in this Church. Please help.
Believers at the time of Worship
A woman cry during worship in this new Church building. The Church is the place for everyone to come and sit together in floor, open their heart and pray and worship together. Church has broken the caste discrimination system in Nepal.
Bible Reading
Disciples read Bible together and verse by verse to check whether is it correct or not. That's good habit of studying the word of God.
Pastor preaching the message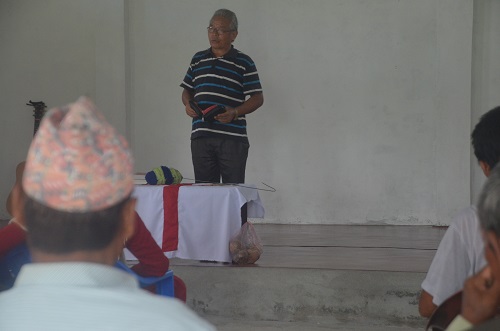 Pastor Purna Kumar delivering the message to the disciples in the Church service on Sunday.
Purna Kumar hikes through the Jungle
For Purna Kumar, hiking through the Jungle, cliff, rain and heat is an everyday life. He walks up and down three hours to the Church from his home in village.
We wanted to share this joy with you so we send this email. Please join with us for other needs of the Church. May the Lord bless you.
Reuben
Nepal
977-980-326-8004