January & February
Jai Mashi
I have prepared an update and I count myself privileged to share this with you. I hope you are doing good.
Nepal Mission Trip and helping building orphanage.
Nepal is landlocked and one of the poorest country in the world. They hate and persecute Christians. But we are thankful for mission team that often visit Nepal to share the good news and build orphanage.
In January, we had small team come from Australia and help us build the orphanage. We are thankful for their hard labor and willingness contribute with what they have. They bought the materials and they finish it. They were like in their 60s or 70s. I was very much impressed by their love for the people and the Lord.
We need mission team in School, in Churches and in finishing the Orphanages. I am always willing to lead the mission group around Nepal.
After the work in orphanage, they spend time refreshing themselves in Park hotel, Elephant safari. We were blessed.
Feeding the Hungry
I always wanted to feed the hungry. I wanted to be with the untouchable and outcaste. Cook for them the good meal with roasted chicken and eat with them, sitting on the same row. That's what we were able to do in February. God loves each one of us and He does not want any one of them should perish.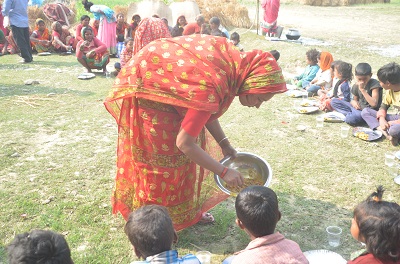 In 1990, there were few thousands Christians in Nepal. Now, people estimate, that there are more than 2.5 million Christians in Nepal.
I have a prayer
We are running primary School in Nepal for poor Children. If we don't run this School, then all the Children will be domestic workers, working in the field, chasing cattle or cleaning some one's home. We run School so that they can make their life better. I would like to have more class room but I don't have fund. I would like to have this school continue because it is the lifeline for the village and carry the value for us, too. We are reaching Children with God's love. We teach them God's way of life.
I have
a video
and it is password protected. Password is in your email in the Subject field. I want that this be seen by only the intended person for our safety.
If you want to look to photo album of Feeding, please click
here
. If image in the report do not open, please kindly lick
HERE.
Reuben
977-980-326-8004 Whatsapp
977-985-101-2105 Viber
Nepal