Reaching Musahar
Reaching Musahar
Hi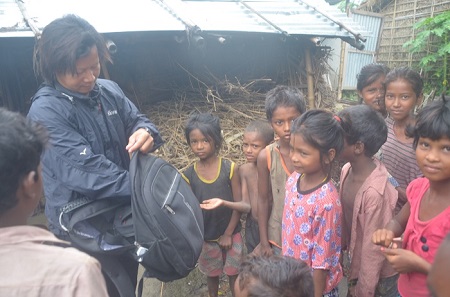 Come with me to the village where Musahar people live. As part of sharing God's love and reaching the unreached, I had the privilege to visit a village of Musahar in South eastern Part of Nepal, ten hours away by Bus. Let me tell you a little bit about them.
Who are the Musahar People?
Musahar people live in southern part of Nepal and in some northern parts of India. Most of their homes are built with straw and mud and live very close to each other. They do not own the land and they are agriculture laborers in someone else's field. The Musahar were traditionally 'rat catcher's' and one of the most marginalized groups that have been suffering through discrimination. Ninety-nine percent of Musahar people have adopted Hinduism. They are called "Risidev" today because the word "Musahar" is so distasteful to them.
What are their sufferings?

They are "Dalits" even among other untouchable groups. The literacy rate is only 3% among the Musahar people and education is not important to them. The community ranks second to last, 129th out of 130, to ethnic groups for illiteracy in the country. Young girls and women are often kidnapped and sold into prostitution in the metropolitan cities against their will. When they become sick, they are not able to receive medical treatment in a hospital because it is beyond their financial capacity due to poverty. So
minor diseases often ends their lives. They are treated as the lowest in the untouchable community. They hesitate to mix with surrounding communities and unable to share their feelings by expressing themselves.
Men spend their lifetime working in the fields of the Landlords as slaves in return to pay the debts their parents took when they had became sick--or festival loan or the marriage debt. Without recourse, this continues to be their life, oppressed and abused, forced to spend their years in suffering. They are economically exploited, politically ignored and socially humiliated and treated as untouchables.
Their daily life
I gave sweets to the children and I asked them to show me their teeth. Most of the teeth of the the kids were black and dirty and horribly damaged by germs. The few children who attend school are not allowed to sit together in the classroom. They are separated in group activities as well. They are physically and emotionally bullied by the students of the higher castes. This form of social alienation requires that they have separate schools for the "rat catchers," else they will drop out of school.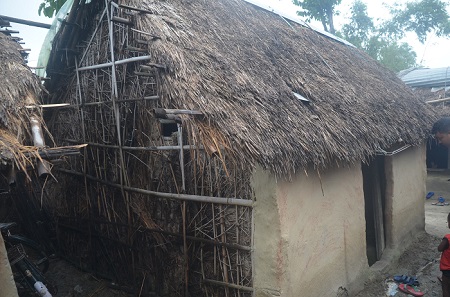 They have two toilets for 200 Musahar. Their little huts have no wooden beds so they sleep on a muddy floor at night. They cook their food in the corner of their one room home. Heat, cold and rain are their enemies. Children play in the mud and in dust all day. Women are not allowed to draw water from the same well or the tube. They have separate ones or need to go to the pond or stream.
"You are the Light of the World"
Mark 16:15 says "Go into all the world and preach the Good News to everyone." The Musahar's world is one of many worlds in the world. I personally believe we should do something for these poor, suffering people. The door to these people is open for us. We must reach this "world" with necessary supplies, services and love and the Good News. When we do this, we become the "light of the world".
Supporting Kawitri and Sanam
I would like to tell you a story that touched my heart. Kawitri grew up in a Musahar family, but she became blind when she was 9 years of age. She got married to Gobinda, who loved her dearly, and they gave birth to Sanam. Kawitri was very happy because she had a husband who loved her even though she was blind. Gobinda died when Sanam was three years old, leaving Kawitri and Sanam helpless. Now 4 years old, Sanam takes her mother from village to village and from town to town to beg for coins and food. When they both get back home, Kawitri and Sanam eat the food they collected. Sanam does not look like he is four years old. He suffers from malnutrition because of a lack of food.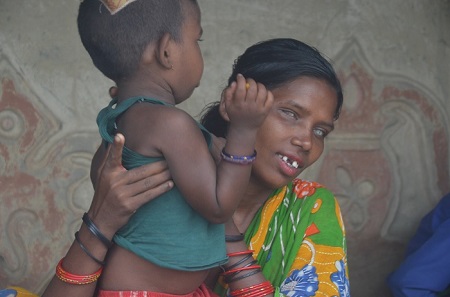 I can't imagine how she goes to fetch the water among the people who hate Musahar. It must be very difficult. But the good thing about her is that she gave her life to Jesus--and her son, too.
I am planning to raise some help to buy clothes, food and some necessities, but most importantly home for Sanam and Kawitri. I would like to make a request for contributions toward helping this needy Mom and her Son. But I can't do it alone. I need you. If Jesus were here today, He would heal Kawitri. I count helping this mother and son a privilege and opportunity. Let us remember what Jesus said,
"You will always have the poor among you, but you will not always have me."
That means: Whatever we do for Kawitri and Sanam, we are actually doing it for Jesus. Let us do this thing together. I promise you will be updated every time I visit them. They live ten hours from Kathmandu, but I make frequent visits to their village so it will not be too distant for me.
Please write me back, I would like to hear from you. Thank you for your time. I value your feedback.
Reuben
Kathmandu
Paypal
Please use churchnepal19@gmail.com to send Paypal to us, or write to us for other option.