April Bible Distribution, Orphans, School,
Dear Friends and Supporters
I am so pleased to bring this April update to you. I have news about how I am helping other team who are traveling to Nepal, reports about Orphanage, about Poor Children in School in Ilam, reports about Bibles and a video at the bottom.
Thank you for the Bibles


There are friends and Churches that sends us Bibles and we are so thankful for each and all. Youths in Nepal desperately need them. Bibles are mostly needed for Bible College students who come to town to study Bible. Large number of people are turning to Jesus for new hope. We can buy Nepali Bibles at 3.5 USD in bulk price, but for English Bibles it is expensive, we give away Bible free, for no charge. You can put the Bibles and DVD movies in mail box and send to Rita Rai, GPO 2623, Kathmandu, Nepal.
Thank you for the Guitar


A small piece of gift, guitar, has inspired the entire youth group in my Church in Kathmandu. We do not know what changes the heart of the youth, only God knows. One day, one of the worship leader said, we would like to go to village and preach the gospel and lead people to worship. They want to do God's work.
Nepal Orphan Children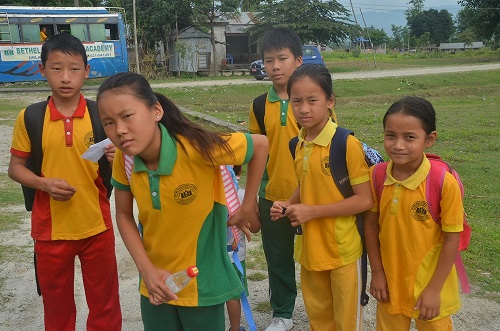 Sarmila, standing at the right, has come to join us in orphanage and now she has a room, caring Aunti, go to school and better life because of you. She now has new home and new family. Her father and mother, both of them were killed in Earthquake. I want you to please remember her in your prayer so that she can stand strong and not be discourage. There are other children who do not have father and mother and waiting for their turn to be rescued and be put in new home and family. We want to help but we can't do it alone, we need you.
Helping Poor Children go to School

There is a small village called Dungdunge in Ilam in Province 1 and mostly people live below the basic food supplies with no electricity and running water, no grocery store and transportation. We want to reach this village and School with God's love. We are now helping this school run by supplying uniforms, books, paying to the teacher and building more
classroom.
During the summer, village is locked due to flood. Purna Kumar reach these village and only the sound he heard at night was witchdoctor beating his drum Dung Dung, all night. Witchdoctor was a king since he controlled the heart and mind of the people. God used Purna, Reuben's Father, and people started to listen to the gospel and one by one many village people started to follow Jesus, three churches were planted, and more than 250 souls were saved. But the Children there need your help to continue to be educated. What we do is not enough. We need your help to put the computers and accessories to teach children, 1200@ for computers and printers. You can help. They have a book from which they have to teach to the students but there is no computer.

Jesus said,
'Let the Children come to me. Don't stop them! For the Kingdom of Heaven belongs to those who are like these children.'

Building Orphanage 2

We are building other small building in orphanage for staff, cooking and rooms for guests. We have laid the foundation and now we are looking to God for fund to raise up pillars. Some local Christian people have donated their labor and money with other international friends such as teen missions and YWAM to volunteer in the project. We need fund to complete the orphanage home 2.
Christians in Nepal


We must be thankful to God for the great change He has brought in Nepal. This past Christmas large number of Christians gathered in open pitch in Kathmandu to celebrate the Easter, resurrection day of Jesus Christ. Now there are 77 districts in Nepal and all has the Church and Christian presence. But just as Herod was upset and very angry in the birth of Jesus, the king, so is people are not happy with the growth of Christians in Nepal. Christians now face challenges of threat, arrest, persecution, church vandalism and pressure from the government authorities. But Christians People are not afraid, they go to village to village and town to town to proclaim the good news of Jesus Christ. So please pray for all the Pastors and Leaders.
Thank you for reading the update. If you have any prayer request, send them to us, we have a team of 70 disicples and we can pray for you.
Reuben
Here is a video link that Miss Sherly made for Nepal, I hope you would enjoy.
https://www.youtube.com/watch?v=I509OEMoHGw&t=104s



Therefore, go and make disciples of all the nations, baptizing them in the name of the Father and the Son and the Holy Spirit. Teach these new disciples to obey all the commands I have given you. And be sure of this: I am with you always, even to the end of the age." Mathew 28:19-20.

Help us reach Nepal for Jesus, please use a donation button at the top.