2017 Jan to March Bible Distribution, Social Visit, Orphanage, Sport
Dear Supporter and Prayer Partner
Jai Mashi
Peace be to you from God our father and our Lord savior Jesus Christ. I bring you the mission update from Nepal and thank you for your prayer and the words of encouragement in emails.
Bible Distribution in January
In January of 2017, we were able to distribute hundreds of Bible in unreached places in Nepal. Hundreds of people turn to Christ for hope, change and for the salvation, but the number one need in their life which is the word of God, written in paper, is scarce, so someone has to give them the Bible. But Bibles are hard to find in remote places, they have to be carried on Donkey's back for the people in remote places in the Himalaya. Needs of the Bibles in Nepal is great because thousands of people are turning to Jesus for new life and hope. What Jesus said in John's time is true,
'And from the time John the Baptist began preaching until now, the Kingdom of Heaven has been forcefully advancing, and violent people are attacking it.'
Mathew 11:12.
Please send Bible in this address:


RITA RAI,
GPO 2623,
KATHMANDU,
NEPAL
Visit to Christian Social Worker
We had privilege to visit some social workers, workers of mercy who carry Jesus in their heart, who are full of love and kindness toward the poor and needy. One of them was Dil Shobha Shrestha, whose only mission is to see Kathmandu beggars
free street, she wants to bring them to her AAMA GHAR, meaning Mother's Home, she does not want to see elderly person begging for food in the street. She is such a kind woman who has rescued many and brought them to her Mom's Home where they are kept safe with food and bed. We know she is being ignored by the authorities and was some time ago mentally tortured for the things she never did. She was framed on false charges and was accused. She was nominated for CNN hero program. But if you wish to donate fund, clothes or food for charity, her organization is the best. She deserves it.
Game in Phidhim
We participate in sport, and our only aim share the good news and to glorify God. The world of Sport is very big and God has sent us to share the good news of Jesus Christ through sport. Large numbers of Sports person are being touched by the power of Jesus and converted to follow Jesus. Christian players and coaches share their testimony of their life to other players and they are powerful. When we play, our news is being printed in newspaper, aired in radios, circulated in internet and Medias, shown on TVs, yes, people hear us. We want to see name of Christ lifted up in Nepal.
Working with volunteers in Orphanage
Churches are planted in many places, orphanages are built and School class room is extended. International Volunteers come and they help us. We need more international volunteers. Come over to Macedonia (Nepal) and help us. We want to thank all the mission groups that have come and help us.
Free School tuition for poor children in Kathmandu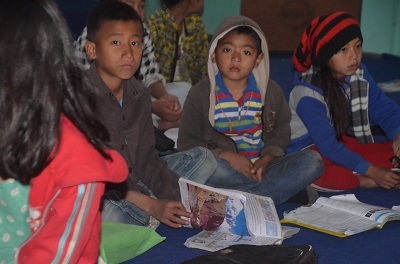 We provide free classes for poor children in Kathmandu. There are 80 Children coming and getting free class and food after the class. Our only mission is to reach children with the love of God. We want to help them in their education. We also need volunteer teacher to teach in Orphanage and in School for Poor in Kathmandu, time is 7-9AM and 4-6PM.
Game in Itahari in March
There was another match in Itahari which is industrial and raising city in east Nepal. We were invited to play there and did win some matches. Everywhere we go to participate in soccer match, Church youth come and greet us saying Church Boys United is carrying the gospel through sport, when we hear that, we are overjoyed. We will continue to spread the gospel through sport. Sports make a bridge to friendship and it opens our heart for the gospel. There has to be an apostle to the sports world and we believe we are that one. God has sent us to reach the sports people with the gospel.
In general,
Work continue in Orphanage,
Apart from title news, there has been many works being done in the mission field. We continued to work in orphanage and it is going to finish in July 2017. This home is big so it takes time. Thanks for your support and prayer for the children, home and mission work in Nepal.
Translation of book by Reuben
I was able to use my free time translating book from English to Nepali. Translation is a service for people and ministry for the Lord. Whenever I translate book, Nepali version is given to the people for reading, mainly book that tell about Jesus, free of charge, to help equip Christian worker to do mission work more effectively. We like the book that tells about Jesus so that people can grow to know God more personally. People in remote places in the Himalaya are reading books because people can't reach there, gospel book reach there.
Orphanage in Urlabari
We have put tiles in Bathroom in Orphanage in Urlabari village and thanks for the donation for the work there. It is really challenging to complete because house is so big. When it is complete we can keep 25 Orphans here.
Chandragiri Hill visit in Cable car
There is a new Cable Car station in Kathmandu. It is good for retreat and Children Camp. Kathmandu Valley is best seen from this mountain. Hill top provides views of 8 out of 13 highest peaks of the world, including Mount Everest and is located at 2551 Meters high from the Sea level. We hope to take Children there one day for vacation and Children Camp. We have 30 Orphans, 70 Street kids coming for free class and 20 Church Children and we are looking to have Children Camp and Retreat in October. We need partners and donation to train up the children of Nepal.
Thank you so much for your time to read this update. I appreciate for each dollar you make towards the mission work in Nepal. Every single dollar is making a change in the process. We believe in unity. We can do more together then we can do alone. We are willing to unite to spread the Love of God in words and in action, to the people in Nepal.
# Jai Mashi means Victorious Messiah in Nepali.
Dhanyabad (Thank you)
Prepared by Reuben in Nepal
Phone 977-980-326-8004,