Report after Earthquake in Nepal
Nepal Earthquake Rebuilding Team
We are ready to go and help rebuilding the houses that has been destroyed by massive earthquake, 7.8M in scale that killed almost 9500 people in Nepal. We are waiting for the rain to stop and dry land to be seen. We need volunteer to work and fund to buy the materials.
If you or anyone is traveling to Nepal and would like to volunteer in serving children, building homes or want to serve in any needed project, they are most welcome. We need healthy person, who do not smoke and drink, and any one who has a heart to labor can join right away.
We are starting this long project from building an extension room for Sunday School in Reuben's Church in Kathmandu which building was cracked by shacking. They we will go all the way to Earthquake effected zone. What a blessing it would be to help the people make home.
Please join with us as we go around helping other in need and sharing the Love of God in action. Use contact us form to reach us with your message.
Thank you
-------------------------------------------------------------------------------------------------

Please help Orphans to go to School
12 Orphans from Samsetu are living in Bhaktapur and 4 Orphan Children are living in Bogatitole near Betrawati in Rasuwa under Tulamaya care. We would like to keep all of them in one building but we can't do this now simply because we don't have fund to do this.
One Child needs 732US$ for a year for School admission, monthly tuition fees, bus, uniform, house dress, books and bag, food, and other school materials. If we divide that into 12 months it comes to 61 US$ per month. Please consider helping them go to School. Please remember that most of them don't have their father and mother, we can't become their father and mother, but we can show them our love and care by adopting them to sponsor. There are thousands of homeless Children are there, we can't help all of them, but we can help some.
Here is the verse about the Children.
Then Jesus called for the Children and said to the disciples, Let the Children come to me. Don't stop them! For the Kingdom of God belongs to those who are like these children. Luke 18:16
We have 4 Children in Orphanage in Urlabari in Morang, 9 Children in Makwanpur, 12 Children in Bhaktapur near Kathmandu and 4 Children in Trishuli in Rasuwa. When you support Reuben, you are supporting these precious Children. Children from Trishuli and Bhaktapur are orphans from the Earthquake and we need support for each one of them. One Child needs 61 permonth and we have got support for only 4 as per now, September 07, 2015, and one friend said he will sponsor one child so we still need support for 11 Orphans. All of them are going to School but their fees are due and need to be paid. I want to relax and stay in home but I can't close when I hear orphans cry. Do you hear orphans cry?
Please help.
---------------------------------------------------------------------------------
Earthquake Orphans pray the Jesus Prayer

------------------------------------------------------------------------------------------

I would like to take this moment to share with you what we are going through. I hope you would pray and share this request with other friends there. Its about the Earthquake Orphans.
Nepal Earthquake Orphans needs your help
I have been helping 16 Children whose parents dead in 7.8M scale Earthquake when Church fall upon them. I am a Pastor of a Church and I myself can't do much even though I like to do. Supporting all 16 is difficult for me because of the finances. So I am sharing this to you with hope that someone would come along side and help the kids go to School. It's about the finances so here is what I have divided on topic wise.
One child needs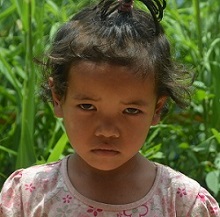 18 USD/Admission Fees
168 USD/12 month
60 USD/School Bus/One Year
130 USD/Uniforms and Books
360 USD/Food for a year and total is
736 USD for a year for one student. 61 USD per month for one student. There are 16 Students and this is an average expenses in short to help understand. When you or anyone help, fund will be use to help these precious orphans and poor children go to School. If we don't, they might stop going to School. So, any amount would be greatly appreciated.

---------------------------------------------------------------------------------------

Who are these 16 Children?
These are the Children of Dandagau in Rasuwa where 8 people dead and from Samsetu in Sindhupalchwok where 23 People dead when the Church they were worshiping the Lord Jesus fall upon them during 7.8M scale Earthquake. They don't have home now, they can't cultivate their land and they became orphans, and no one to care of them.
Today, they are already going to School but their fees are due and increasing every month so they need your support. If 16 People each picked up one child, their life will be change forever. This is something we can do for the Orphan children in Nepal.
---------------------------------------------------------------------------------------------
How to Donate?
Please use Paypal Donation button at the top.
For more question, please write to Pastor Reuben at tankrai@gmail.com, or reubenrita@yahoo.com
Click
here
for more.
God bless you and we want to hear from you.
Reuben Kathmandu
------------------------------------------------------------------------------------------------
She is a true mother
By Reuben Rai
July 27, 2015 from Kathmandu
I made a prayer, medical and cash gift distribution trip to near Trishuli Bazar today where around 300 Earthquake victims from Dandagaun in Rashuwa encamp in really desperate condition under the mere plastic tent. I talked to Pastor of Ekta Church, Dadagaun-8 in Rashuwa, Dil Bahadur Tamang who lost his wife in Earthquake along other 7 person. Pastor Dil is left with 6 of his Children now, they are Isaac (12), Jyoti Maya (10) and Amos (5). I asked Pastor Dil, 'why did not you take your children to School?" His answer was touching, 'Sir, we do not know how long we are going to stay in this jungle, we do not have home, no food, how can I take my Children to School?' Back in village in Dandagaun in Rashuwa, the crops they grow are only the corn and millet, since they live in an altitude of 2500 meter from Sea level, near the Ganesh Himal, they built home with stoned wall in the steepy hill. He and many other became truly homeless since their land and home were swept. This is a life of a Pastor in Nepal. But the story I am sharing here is not about him really, its about a mother, who have a heart of gold, a living saint of love, Tula Maya Tamang.
Tula Maya is 31 years old now and live in the same village that Pastor Dil lived. She was married when she was 14 years of age. She and her husband, Bal Bahadur gave birth to a son when she was 20. She was a disciple of Jesus, but her husband was not. But Bal Bahadur accepted Jesus in Malaysia when he went for foreign employment program and came to Nepal but soon after dramatically he was changed for the bad. He started to drink, fight with his wife, Tula. He learned to become Lama and started to hate Christian, including his wife. He started to beat his wife with Motorbike chain and threaten her to take her life with Khukuri, Nepali sharp knife. Only reason of the fight was that she loved Jesus and attended Church regularly. Bal Bahadur gave final ultimatum to Tula, leave me or leave Jesus. Tula told her husband, I can't leave Jesus because He is my everything. Bal Bahadur was very furious and left the home challenging that he will going to get another wife for him. So he divorced her and got married with a woman who already had two children. It was unbearable to Tula Maya, so she went to Kuwait as a domestic helper to help her and her son live better life. Bal Bahadur and his second wife, Chandra, got the child and gave the name Puja and Hissi Dolma.
On 25 April, Bal Bahadur and Chandra, laid the 7 month baby, Hissi Dolma in basket and commanded Puja to look after her sister in absence of mother and father, who both hiked up in the mountain to collect firewood in the steepy hill when 7.9M in Richter Scale Earthquake exploded. Bal Bahadur and Chandra were driven and buried along the rocks of piles of mountain which fall upon them, taking them to the gorge of the mountain where their body were no were to be found. Chandra never returned back to milk her 7 month old baby, Hissi Dolma.
Tula heard the news of the Earthquake in Kuwait and was rushed to home in Nepal. She was at least happy to meet her son alive. She is the same Tula Maya who has become mother of Hissi Dolma, now 1 year old, and Puja, now 5. I asked her a question, 'how did you accept these children of your husband who beat you and threaten to take your life, he even divorced you and married another wife and you are looking to his children?' She said, 'I have already forgiven my husband and I do not have anything against both of them.' Hissi Dolma started to cry, probably because of hunger, was looking to breast to find mother milk, poor child, she don't know she will not get milk from her. I asked her last question, 'how are you going to feed these little guys?' She look to the ground and responded, 'I don't know'. There was a moment of silence and I was standing in front of a woman who has a heart of gold, mother of love. Indeed, she is a true mother.
I asked Pastor Dil, 'every child is going to school with uniform and bag. Why did not you admit your child to School?' He said, I don't have money'. I ask him, let us go to school to talk with principal. He said, 'I don't have money.' I told him I will pay. We went to School and the principal said we will discount the fees as much as we can. So I gave 50$ to Pastor Dil and told him this money is for your two children and for Puja for admission, when Tula heard this, she smile for the very first time after the Earthquake.
To all those who read this, when you support Reuben you are supporting these children too. Please know that there are other needs also and I believe we can be a comfort to needy today. Let us be salt and light to others.
With much love in Christ,
Reuben
Nepal
--------------------------------------------------------------------------------------
Other Updates
----------------------------------------------------------------------------------
Man Bahadur Bika
By Reuben
8 June in Barhabise, Sindhupalchowk
Man Bahadur was a very laborious man in Emmanuel Church in Samsetu in Gumtang, Sindhupalchowk. He had four children and all of them girls. Man Bahadur could not educate his children in good school so at the very young age when their daughter was 18 years old, needed to go abroad for finding a job to help her father maintain the family, its normal now in Nepal but girls leaving the family and going abroad is not well accepted in Nepali culture because there has been many cases of rape, murder and humiliation to women in gulf. Man Bahadur work in Kut system in Landlord's
field for many years. This is the system where the person who rent the land agrees to pay certain amount of crops to the field owner despite the result how much they can harvest. Today Man Bahadur is no more and all the responsibility to feed the family members are on the shoulder of Misiri Bika, the wife of Man Bahadur, who is sick and needs medicine to survive. She was in Earthquake free medical camp today, to check up her chest pain. She can't go to hospital because she doesn't have money for the check up, treatment and for medicines. Although her first daughter is in gulf today she feels difficult to lead her family. Man Bahadur is dead, leaving his weak wife with greater responsibility to look after the four girls. She is looking for donors who can help her three children go to school today. She would be much grateful for all of her life if she could find support for her School children.
Anyone can help.
From Reuben Rai, Kathmandu, Call 977-985-101-2105
----------------------------------------------------------------------------------------------------
A woman with no leg
By Reuben
31 May in Kathmandu
Parvati Shrestha, 32, wife of Bijay, always wanted to be Mary who wanted to know more about word of God and wanted to serve the Lord. She attended Bible colleges hoping that she would become a good church leader in the future. They did not have any financial source; they did not had any land, just a small house. Like Aruna Lama song, Life don't go like you think, they have debt and it was growing with interest, so life really didn't go ahead like the song. Bijay and Parvati needed to separate for time being, Bijay flew to Malayasia dreaming that one day they both will be serving God and Nepali people, Parvati stay back in village with their only son, Isaac, in Sunkhani, in Phulpingkatti-9, Sindhupalchowk.
April 25 was the black Sunday for their dream life. Like Parvati, all of the disciples of Jesus went back to home when Church service concluded at 9 AM. They had 7 AM meeting in Church whose wall was built by stones. She had a sewing machine and she helped community with her skill. She was cutting the clothes and suddenly her home start to shake vehemently. She knew it that it was an earthquake. She grabbed her little Isaac and tried to run for safety. Her home was in Steepy place and the stones that rolled from the mountain overtook her and Isaac. She was fallen, she saw another woman already fallen in her path and saw struggling for her final breath, she died while looking at her. She tried to wake up but she could not, she was hit by huge stones which she did not know where it came from, it was like swift bullet. Stone fall so fast, hit her leg and disappeared. She was bleeding, her boy was crying. Her son's foot was torn in pieces, mud and rocks in cut and it was bleeding. Little Isaac was crying because of the pain. She handed Isaac to her uncle but she was left alone. There were many died bodies around her. Those were her friends at night. 12 hours night was the 12 thousand years for her. Parvati was at the bottom of the mountain in open field for two days, she was bleeding 24 hours, with no water, food, or pain killer. She gave up, her hope died. No rescue, no hospital, nothing. After two days, Helicopter landed nearby and she was airlifted to Nepal Medical College in Jorpati, Kathmandu where she is now. Doctor told her that her both legs below her knees have been totally damage, with all her bones, veins and flesh. Doctor cut her both legs and now in hospital and she doesn't know what future holds for her. Next day she was rejoined with her son Isaac. Isaac left feet three fingers has been removed.
Bijay saw the 7.9 Rector scale Earthquake in TV in Malaysia. He was nearly broke and could not believe what he heard. He wanted to come home right away on 25 April and take his dear wife to hospital, was stranded to die. He asked emergency leave in his office but the office boss was so damn blind he just said, every things going to be fine, stay here, work we are just going to increase his salary. Bijay give up his salary and flew to Nepal to be his wife.
Their dream life has been damage. She says only God keep her alive even while she was bleeding for two days. I ask her what can we do for you and she said I am concerned with my son that he will be able to study well.
Thank you for reading
------------------------------------------------------------------------------------------
Parvati needs your help to get two artificial leg
Updated News
June 19, Kathmandu, by Reuben
Here is an opportunity for those of you who want to help Parvati get her two leg. She was running with her son when 7.9 M Earthquake hit but she was overtaken by the falling rocks and she was fallen and her two feet were smashed. She was there the whole night until she was airlifted to Kathmandu for treatment. Doctor cut her both leg because it was no use for her.
She wants to walk now but she is looking for artificial leg which would cost her 600 dollar for normal but she can get good one at the price of 1200 $$ with other kits. So here is an opportunity for anyone who wants to help her get her two artificial leg. You can make donation for her right now by going to Paypal below or immediately by paying through moneygram and paying to Rita Rai for Parvati and send email to tankrai@gmail.com or go to Paypal below.
Thank you
----------------------------------------------------------------------------------------------------
We need your help for the Earthquake victims
By Reuben
31 May in Kathmandu
Thank you for your prayer and financial support for the Earthquake victims in Nepal. We have reached thousands of peoples lives and its because of you. I want to share something very urgent to you on behalf of the Nepal Earthquake victims.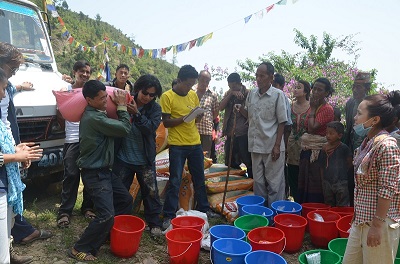 We want to reach 5 places in Sindhupalchowk, 2 places in Dolakha, 1 place in Makwanpur, 2 places in Gorkha, 1 place in Dhading before monsoon starts and blocks the road in mountain. But I can't do this without your help. We have spent month this month in helping others, traveling to road that no one has gone and reached villages with supplies where people have been waiting for the supplies. We simply want to do this because we walked in the footsteps of Jesus. When he saw the crowds, he was deeply moved with compassion for them because they were troubled and helpless, like sheep without a shepherd. Mathew 9:36.
Please share the need of Nepal with others, pray for us and help us to go to places with supplies. We want to go, please send us. We need your help for the earthquake victims.
Reuben
Phone 977-975-100-2328
Nepal
--------------------------------------------------------------------------------------------------------------
For fresh photos and videos update, please visit
Facebook
--------------------------------------------------------------------------------------------------------
Here is how you can send money right now. Go to moneygram or western union website and make payment directly to chief coordinator right away, to TANKA LAL RAI, DUNGDUNGE VILLAGE, MAHAMAI-9, ILAM, MECHI, NEPAL.
Or you can donate here right now,
Help Nepal Earthquake Victims
----------------------------------------------------------------------------------------------------------

We remember you Samsetu, (graphic pic in between)


-----------------------------------------------------------------------------------------------------------------------------


Relief Supplies in Kodari, Nepal Tibet Border
28 May, Kathmandu,
By Reuben
Today is May 28 and we have supplied relief helps to hundreds of earthquake victim's families in Kathmandu, Bhaktapur, Lalitpur, Sindhupalchowk, Dhading, Makwanpur, Ramechhap, Kavre and Nuwakot and total centers we distributed are 26 and each center needs 30,000 Rupees smallest to 450,000 Rupees for Rice, Blankets, Tents, Turfs, Aluminum, Filter supplies, and medicines and accessories. This was possible through the help of partners, friends, well wishers from Nepal and across the world. Most of the roads we travel are tough and dangerous. One small carelessness can lead to deadly accident also there is a danger of protecting your supplies from the greedy people. But it is always a joy to help a person in need, your relief supplies helps them to bring hope in their life. It helps unite the heart of the People where God's love is best shown in action.
In many places, we have the list of house hold and their names. But when it comes to distribution many people would come from far and it is really difficult to give to people. You see this photo at top, we had supplies for 100 people but when we reach there there were more than 400 people and it really difficult to share with everyone.
We have a team divided in each district Reuben in Kathmandu Bhaktpur and Lalitpur, Gobinda and Suman in Gorkha, Jamling and Buddhiman in Dhading, Rajan and Tara in Sindhupalchwok, Pradip and Mina in Ramechap, Bishnu and Bimal in Makwanpur. We need assistant or data collector for Dolakha and Kavre.
For list of hourly updates, photos and videos, please go to
FACEBOOK
and
List of centers
---------------------------------------------------------------------------------------------------------------------
Earthquake Story: Father and Daughter left
Report by Reuben, Kathmandu,
Bimal was in Gulf when he heard the terrible news about the Earth Quake back at home country. He said oh that;s bad and he went off to the work as usual. What he did not know was that two of his daughters and his dear wife, three of them were no more on the Earth.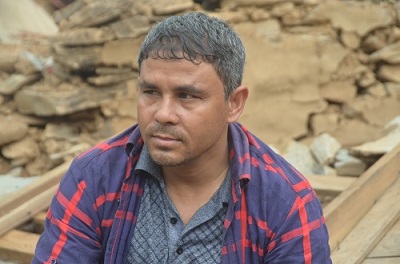 He came rushing like whirlwind to his village and he can't believe what he was seeing. Houses were totally damaged and no body welcomed him, no one was smiling. They all kept quite though he was coming after 3 years to his village. He did not saw the faces of his wife, Kabita, and his two daughter, Mamata and Pushpa. He and his other daughter Sushma are there now.
Bimal is feeling alone now. Many houses are desolate. All people who lost home and family members are staying together in Church in the muddy floor in temporary makeshift. They become one family, cook and eat in common.
You can reach Bimal by calling 977-974-126-2679
------------------------------------------------------------------------------------------------------------------
Photos in
Chicago Times
Read about our relief effort in
Jerusalem Post
See the devastating
video of Liping
, Nepal China border
Read our photo blog in
Huffington Post



------------------------------------------------------------------------------------------------------------------------
I want to bring an update from the earthquake. Please read and pray for us as we respond to the need of the people here.
Thunder storm in Dipak's life
By Reuben Rai,
Kathmandu,
Dipak and Tara, (Dipak means light and Tara means Star) husband and wife, has been struggling to make their life beautiful ever since they got married. They became so happy because God gave them first son and they called him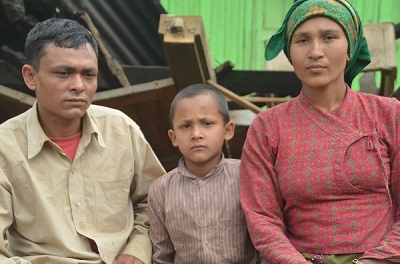 Mukesh. They had high expectation from him for the future. He was the son of hope for them and will wipe all the tears of his mother and father when he grow up. First thunderstorms came to hit their heads when they discovered that Mukesh has paralysis and he will not be able to walk. They took him to the doctors and to all Dipak and Taratypes of witch doctors but nothing happen. They decided to come to Church for prayer for healing of their son. Their son was not healed but they found refuge, love and acceptance in the Church that made them to accept Jesus Christ as their personal Lord and savior. Mukesh has a brother whose name is Dipesh and other youngest brother, whose name is Ishwor.
Dipak and Tara had a piece of land where they grow crop and corn. They had to pay to the land owner because that's not their's. Every season just as the crops is ripe they have to pay 200 Kgs of Corn and 100 kg of Millet to the landowner. That was not enough for him to feed all their family members, so he decided to go to Qatar for a job. He paid 110, 000 Rupees to Human supply agency to find a job and flew four months ago, to make their future better. Tara's was very happy because she knew that her husband would get more money, pay the debt and be free and she was dreaming a beautiful family where every one will eat to the full and live in all sufficiency.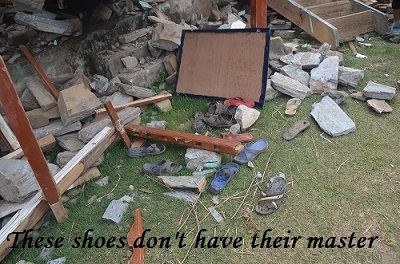 But on 25th April, biggest thunder lighting headed towards their beautiful family. Tara was washing the clothes while little boy Ishwork who was then just 9 months old were sleeping in the Bamboo basket, never wake up. Mountains were moving, big stones were rolling, she heard and felt the tremors and she tried to reach to her son's place, but before she could ever reach, house of stoned walls collapsed and she didn't know where her two sons were. It was 7.9 Magnitude rector scale Earthquake. She shouted for help, started to run and she couldn't believe what has just happened, all were crying and shocked. She came to church running for help because that was the place she thought she could find helper. She was speechless, she saw 15 dead bodies in the court of the church most of them wrapped in blood and more trapped in the church ruins. She was speechless. Her Church was the Emmanuel Church in Gumtang Sindhupalchwok where 23 people were dead. Today, harvest is not cut, onions are not collected from the field, dog don't bark, Cows don't moo, rooster don't crow. Bhote Koshi River below the gorge continues to flee downward, making big noise at the night. That's what all they hear in the mountain. This thunderstorm ruined many people's life, including animals.
Dipak Tara and their son Dipesh live but they lost their two sons Mukesh, Ishwor, Dipak's father and mother, Mangal and Tukuni.
You can directly call Dipak to this number: 977-962-117-5487
By Reuben
On 13th May,
Kathmandu
Cell 977-975-100-2328
Tomorrow, 14th May, I will be going to Dhading for at least three days. Please keep me and my team in your prayer for safety. Will not be updating until I come.
Thank you
---------------------------------------------------------------------------------------------------------------------------------------------
Earthquake Relief Supplies in Lamosangu Sindhuplachowk


--------------------------------------------------------------------------------------------------------------------------
Click here to see
Earth Quake Relief Program
-------------------------------------------------------------------------------------------------------------------
Urgent Need
Dear Friend
I come to you with urgent appeal to help our brothers and sisters in Ree and Jharlang Village DC in Dhadhing near the earth quake center. Road is blocked but one Pastor manage to arrive here with the news that children are starting to starve to death. No one has reach there because this is near the Ganesh Himal.
Pastor Ramesh who saw 15 of his believers dead in Earthquake says thank you for the food and tents





--------------------------------------------------------------------------------------------------------------------

Nepal Earthquake Slide Photos
------------------------------------------------------------------------------------------------------------------------

A life of a Shepherd before the Shearer
By Reuben Rai
On May 5, Kathmandu
He was oppressed and afflicted, yet he did not open his mouth; he was led like a lamb to the slaughter, and as a sheep before her shearers is silent, so he did not open his mouth. Isaiah 53:7
This is the Bible verse in the gospel tract that touched the heart of Ramesh Shrestha which was given by Shila Pradhan that eventually led him to accept Jesus Christ as his personal Lord and Savior. Today Ramesh, one of the oldest person to have lived in faith in Sindhupalchwok and largest in assembly, is rich with more then 400 followers of Jesus with children and adult in his Church and consider himself one of the happiest person in terms of ministry calling, tolerance and fulfillment.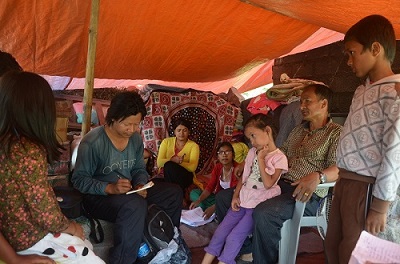 Ramesh' life is incessant like the lowest and tall mountains of Sindhupalchowk. He witnessed the most dreadful experienced of his life on 25 and 26 April when he saw 15 of his beloved people said final good bye to him on the Church day as well as more than hundreds people hospitalized in intensive care unit after devastating incident, called the cruel Earthquake. He saw 7 year old child die after 2 hours struggling to breathe when the lad was hit by rock that sprung from the cliff. He heard the little Sunday school children crying to him for help 'Help, Help' from under the pile of huge floor debris. No one came to help them, not even Armied Police Force who stationed barely 50 meter apart. They eventually broke the roof which was now fallen in the ground flatten; some of the bodies were retrieved only after four days despite their consistent effort to pull bodies from the piles of debris, with the help of Police Force nearby.
This is not the hard times that Ramesh went through. Two years ago Ramesh' wife, who was about to give birth to triplet child, was in hospital and doctor told him to prepare to pay 13000 Rupees per child per night to keep them alive in incubators because of premature birth, 7.5 month, the Children needed to attend special care. Meanwhile his father was in hospital figting against the spirit of cancer and his wife in maternity ward struggling to give birth. Both patient needed desperate help and care as well as money to deposit to keep both of them alive, Mom and Child, and he didn't had a penny. Where would he go now? There was no other place to turn. He set under the tree in hospital yard and cried like he lost the battle. Why God why me? All three were born, healthy and good. Doctor called him on the phone and he was terrified thinking that Doctor would talk about money, his only thought was 13000 cash for each, Incubator and the bills. But the doctor said, congratulation, you have three babies, all are healthy and you don't need to keep them under
incubator. He jumped smiling and entered the cabin and put their names as Rachel, Reason and Reward. When the children were born he remembers no more what he went through.
Ramesh remember further back to the time when late King Birendra and all his household were massacred on1 June 2001 that shook the world. The Maoist came to his church, took all that Church had, including music system, water motor, vessels, chairs and blasting their only place of Worship, the Church to the ruins. Public said if you blast bomb in Church we will all together come to your party. Maoist then did not like the presence of Christian but wanted to get moral support from the public. He was humble like the sheep before her sheerer and did not protested a word who persecute him.
After the great earth quake, Ramesh and his wife is optimist that someday God will come along side with them and bless them, like He blessed Job. They are going through tough times once again, in helping others while taking care of their three small babies in the open field in the chilly cold. Today they need blanket, turfs, clothes, vessels, water motor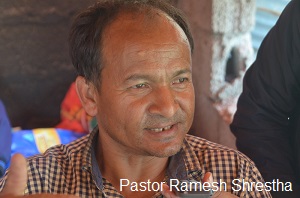 and many other items. Ramesh seems optimistic even as his 2,000,000 Rupees Church building collapsed, he is dreaming to have good Church building in future in Lamosangu where he and his believers could stay together and worship the Lord.
This is one of the lives of many Pastors in Nepal. There are more than seven thousand Pastors across Nepal who carry similar testimony like Ramesh, who humble themselves like the sheep humbles before the shearers.
Ramesh and other 7 Pastors in Sindhupalchwok needs your love, not just the words, relief supplies that includes food, blankets, tents and medicines. This opportunity is life time privileges to bless Pastors of Nepal because they deserve our attention, love and prayer. Please write to us today or call on how you can be a blessing to others or call directly to Pastor Ramesh at this number 977-984-129-9198.
Reuben Rai
977-975-100-2328
Kathmandu
-----------------------------------------------------------------------------------
Oh! Sindhupalchwok. Look at you
By Reuben Rai
May 2, Kathmandu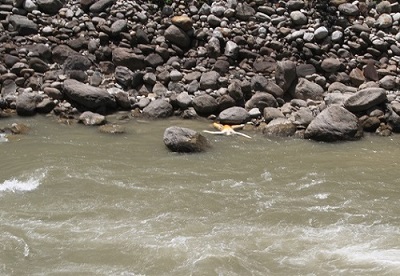 We rode motorbike and reach to Naya Pool which has Bungy but we can't go further because road was filled with big rocks. We saw dead bodies scattered all around, motorbike left in the middle of no where, car stranded, bus drowned with rocks, bodies moving in river, no mark of the road. People abandoned the town like it is plagued, houses are empty and you could see dog without owner, chicken and goats looking for their master. All things, including LP gas, freezer, beds and vessels are untouched. Looks like everyone has been raptured.
More
Click
HERE
for photos
Click
HERE
to read what newspaper said in 4rth day of the Earth Quake
-----------------------------------------------------------------------------------
Kitab Praja dream shattered
April 28
By Reuben Rai
Kathmandu
Kitab Praja attended our Bible College in 2010. He wanted to learn more about God. He got married with Suntali and they both have a daughter Pragati, age 6, who is reading in class 1 and their son Abiral, age 4, reading in Nursery. Their home is in Makwanpur where they hardly manage to get food supplies. Suntali did not say no when her husband told her that he want to shifts to city for their better future and for good school for their children. They rented a room and that was their new Jersualem, they were so happy because that was better then their home in the jungle mountain.
On April 25th morning, Saturday, she said to her husband we need to go to Church to pray together and thank the Lord for their life in city. Kitab work in nearby copper factory and their life was beautiful. He told his wife that he needed to go to market to buy a new cellphone so that he can communicate and grow his business. Suntali took and went to church with their two children. Just as he was also about to leave for market, there was terrible shaking in the building and despite his running, building got him inside. While rest of the people in that apartment somehow manage to run to the open space, he could not. Now four storey building has sank and you could see only 2 floor. He was in the bottom. Pillars, floors, rocks, bricks and cements are dust now.
Just as I was asking the names of their children, Suntali, broke into tears just as she said pointing to the spot, 'he is right there below, and it has been four days now'. If I was a superman, I might have removed that huge house and take him out. I look to the children, and they were looking inside my bag, hoping to find something to eat. They also have not eaten for four days with their Mom. I ask her, do you have money to buy something, she said no, she said I have no one here. She look to her children again, and she broke into tears and set on the ground. Suntali sees her future and she sees it dark.
I said to her, I call you later, I need to go now, there are other 25 people who died in a single building. I will come and meet you, hopefully with some food and cash.
By Reuben
-----------------------------------------------------------------------------------
My Dear Precious Friend
We already had many problems and challenges and one more had been added to our soldier now. We have experienced 7.9 Magnitude Reactor Scale Earth quake in Nepal which claims 1800 lives just as I am typing this appeal.
I just came back to home from Church, we were in the middle of praying in the service yesterday and suddenly there was 4 minutes of continues moving of 7.9 Magnitude. I took all our believers outside the building and many were scared and crying. We stayed outside the building through out the night with no food, electricity, internet and tv. We did not know what happen until radio work at midnight.
80 died when church collapse in Kathmandu. Four of our Church members house crashed and they are living in open field with little children. Two of our Church cracked and they feared to assemble there. I think we should help them. I myself is sick for 5 days and there has been infection in my throat and can't swallow food, only hot water and liquid things. I have no idea how many got injured. I could see Chopper fly throughout the night and even now when I write this. If anyone would help us set up Nepal Earth Quake Relief Fund that would be great.
I will write more when I have more reports from my leaders. Its still happening and there were 90 times shaking all above 5 magnitude in reactor scale.
We need your help to restore our brothers and sisters to their normal life. Houses has been broken thats what I hear this and mom with their little baby are in open field with no food. This is heartbreaking. There would not be any opportunity then this to help our brothers and sisters in the Lord.
Reuben
977-975-100-2328
Kathmandu