Orphanage Building Plan 2015
Orphanage Building Plan
3rd Floor


Place: Urlabari-2, Khorsanibari, Morang, Koshi, Nepal
Fundraise Date: 2015 January to April
Material order and Purchase: Before 2015 April 15
Work Start: 2015 April 15-30
Fundraise target Amount: Nepali 1592100/US$ 16758
Construction Description (3rd Floor only): Steps, Floors, Windows, Bathrooms, Wires, Window Glasses, and Bathroom and Shower items. Prayer and study room (1), bed rooms (7), attach bathroom (4), Electricity Fans. (Furniture not included).
Current Orphanage Status: 4 Orphans (two girls, two boys) 2 Staff
Orphanage Capacity when completed: 25 Orphans/4 Staffs
Orphanage Structure: Four Storey Building
Expected date of finish: 2016 February 25.

S/N

Items

Expected Amount in Rs

In US Dollar

1

Cement (130 Sacks of Cement) 670 Rs

87100

1US$X95Rs

2

Steel Rod (80 Pieces rods or more) 16 Pillars

1,50,000

3

Fine Sand (7 Trucks)

35000

4

Cutting Rock (5 Trucks)

60000

5

Bricks (5 Trucks)

2,10,000

6

Bathroom and Shower Items

1,10,000

7

Painting (All)

1,20,000

8

Electricity, Wires, Fans (8 rooms, 4 bathrooms)

1,20,000

9

Workers Payment

5,00,000

10

Miscellaneous

2,00,000

Expected Total fund needed for 3rd Floor

1592100

16758
What has been finished so far?
1. Two Storey Building completed.
2. 1st Floor: Prayer and Church Hall, Kitchen Room, Dining room, Ground Floor Bathroom, Space for Car.
3. 2nd Floor: Open hall, 2 attach bathroom, 4 normal room, 1 common bathroom are finished.
4. Lights, Shower and Fans Fixed (No heating and cooling system yet, it's very hot in summer).
5. Water Filtered System Installed.
6. TV and Internet Connected.
7. Separate Store House built to keep safe cement, rod, chairs, rice, tools, and sports materials.
8. All kinds of mattresses and blankets for all rooms bought, (wooden bed not purchased).
9. Need: One Scotty or small car.

Thank you for your support and prayer. We are here because of you. All glory to God.

Prepared by Reuben Rai
On 2015 March 6, 2015


Four Orphans now and others waiting to come in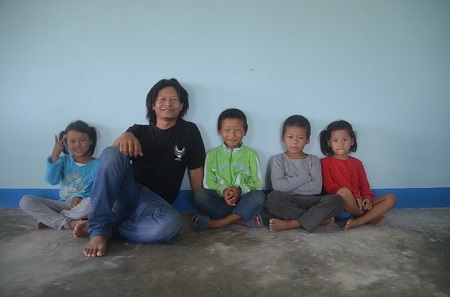 Other orphans (not all in pic) are waiting for their turn to come in

End of Document