2015 February and March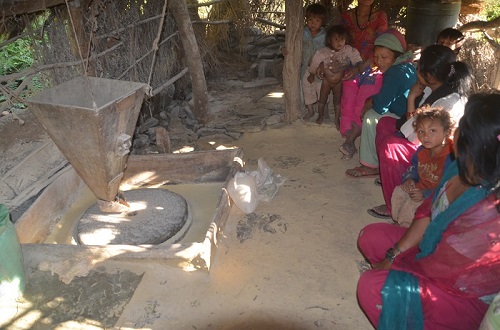 Dear Supporter and Friend
Month of February and March has been a great months. Its because we were able to work in so many ways to help the needy communities. International volunteers also joined with us to help us build the orphanage and school for poor in Nepal. Prayer, travel, leading people to the lord, Bible distribution, visit to the pastors are the updates of the months. Our brothers and sisters in Maountain of Makwanpur live in below basic physical resources like adequate food, proper bed, sufficient clothes in the body and house made by wood and sticks do not give them needed comford. Their actual need are most touching story on the month.
Picture in this image is women and children gathering around the Ghatta, a traditional hydro millstone which grind wheat and maize for bread and dhido, a kind of halva. High mountain do not grow rice and all they east is Dhido.
We reach to these mountains after changing three buses and couple of hours hike. We made a seat in roof top of the bus. Its nice since you can have a glaring landscape and views of the surrounding mountain.
More...